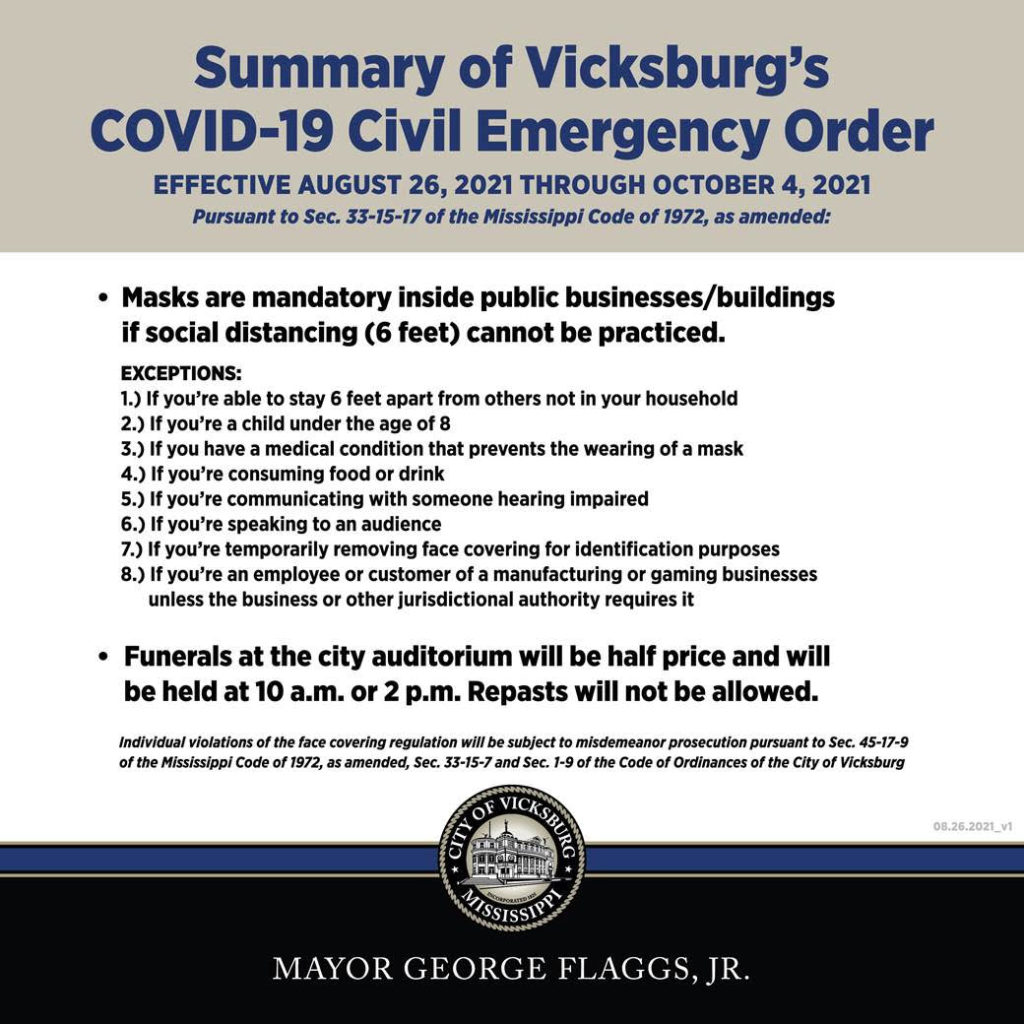 PROCLAMATION OF CITY OF VICKSBURG TO MINIMIZE THE RISK OF INFECTION AND TO PREVENT THE SPREAD OF COVID-19 IN THE CITY OF VICKSBURG EFFECTIVE AT NOON ON AUGUST 26, 2021 AND REMAINING IN
EFFECT THROUGH OCTOBER 4, 2021
WHEREAS, pursuant to $33-15-17 of the Mississippi Code of 1972, as amended, the City of Vicksburg is authorized to proclaim that a Civil Emergency exists defined as any natural disaster or man-made calamity resulting in the death or injury of persons to such an extent that extraordinary measures must be taken to protect the public health, safety and welfare; and
WHEREAS, 821-19-3 authorizes the City to make regulations to prevent the spread of infectious or contagious diseases; and
WHEREAS, pursuant to these laws, the City is authorized to issue such orders as deemed necessary to protect the public health, safety and welfare of the citizens of the City of Vicksburg, Mississippi; and
WHEREAS, the Coronavirus (COVID-19) that has spread across this nation is a worldwide pandemic and a resurgence has occurred due to the delta variant of the coronavirus; and
WHEREAS, the COVID-19 pandemic remains a matter of importance and concern in the City of Vicksburg, and it is necessary for the City to take measures to minimize spread of the virus among its citizens; and
WHEREAS, the health care system is inundated and there are currently no ICU beds available in the State of Mississippi and it is imperative to try and slow the spread.
NOW, THEREFORE, BE IT PROCLAIMED BY THE MAYOR OF THE CITY OF VICKSBURG pursuant to $21-19-3 and 833-15-17 of the Mississippi Code of 1972, and such other powers as the City may have, the City finds the COVID-19 pandemic remains an emergency in the City of Vicksburg due to 5,731 total cases and 139 deaths in Warren County, Mississippi as of August 24, 2021, therefore, the following regulations apply:
The following regulations shall continue and be in effect on August 26, 2021, beginning at 8:00 A.M.:
A. FACE COVERINGS SHALL BE MANDATED AS FOLLOWS:
All persons shall wear a face covering inside public businesses/ buildings, including retail businesses such as grocery stores, building supply stores, convenience stores, and other businesses and organizations including, but not limited to, restaurants, salons, barber shops, tattoo parlors, if social distancing cannot be practiced (6 feet apart).
B. EXCEPTIONS TO THE FACE COVERING REQUIREMENTS: Face coverings do not apply to the following:
a. Any individual who will not come in contact with any other individual (outside of their immediate household members) or who will be able to maintain strict social distancing of six (6) feet apart from any other individual (outside of immediate household);
b. Any child under the age of eight; however, all children between the ages of two (2) and seven (7) years old are strongly encouraged to wear a face covering.
c. Any individual with a medical condition that prevents the wearing of a face
covering;
d. Any individual who is consuming food or drinks;
e. Any individual seeking to communicate with someone who is hearing
impaired;
f. Any individual speaking to an audience; and
g. Any individual temporarily removing his or her face covering for identification purposes.
h. Employees and customers of manufacturing businesses or gaming businesses unless the business or jurisdictional authority requires it.
i. Business owners and managers are entitled to rely upon the representations of their customers, patrons and employees regarding whether or not they qualify for an exception from the face covering requirement.
C. Funerals: Funerals are encouraged to be grave side services. Funeral services may be
held at the City Auditorium at 10:00 a.m. or 2:00 p.m. There shall not be any re-past or meal after the service at the City Auditorium. The cost for the City Auditorium for all
funerals shall be one-half (1/2) of the regular auditorium fee.
Individual violations of the face covering regulations will be subject to misdemeanor prosecution pursuant to Sec. 45-17-9 of the Mississippi Code of 1972, as amended, Sec. 33-15-7 and Sec. 1-9 of the Code of Ordinances of the City of Vicksburg and will be as follows:
1. 1st offense – warning 2. 2nd offense – $100.00 fine 3. 3rd offense and up – $300.00 fine per each separate violation
THIS PROCLAMATION SHALL BE IN EFFECT BEGINNING AT 8:00 A.M. ON THURSDAY, AUGUST 26, 2021 AND CONTINUE THROUGH OCTOBER 4, 2021, UNLESS EXTENDED, MODIFIED OR REPEALED BY A SUBSEQUENT
UNLESS EXTENDED, MODIFIED OR REPEALED BY A SUBSEQUENT PROCLAMATION.
SO RESOLVED this the 26 May of August 2021.
GÉORGE FLAGGS, JR., MAYOR CITY OF VICKSBURG, MS
ATTEST:
CITY CLERK