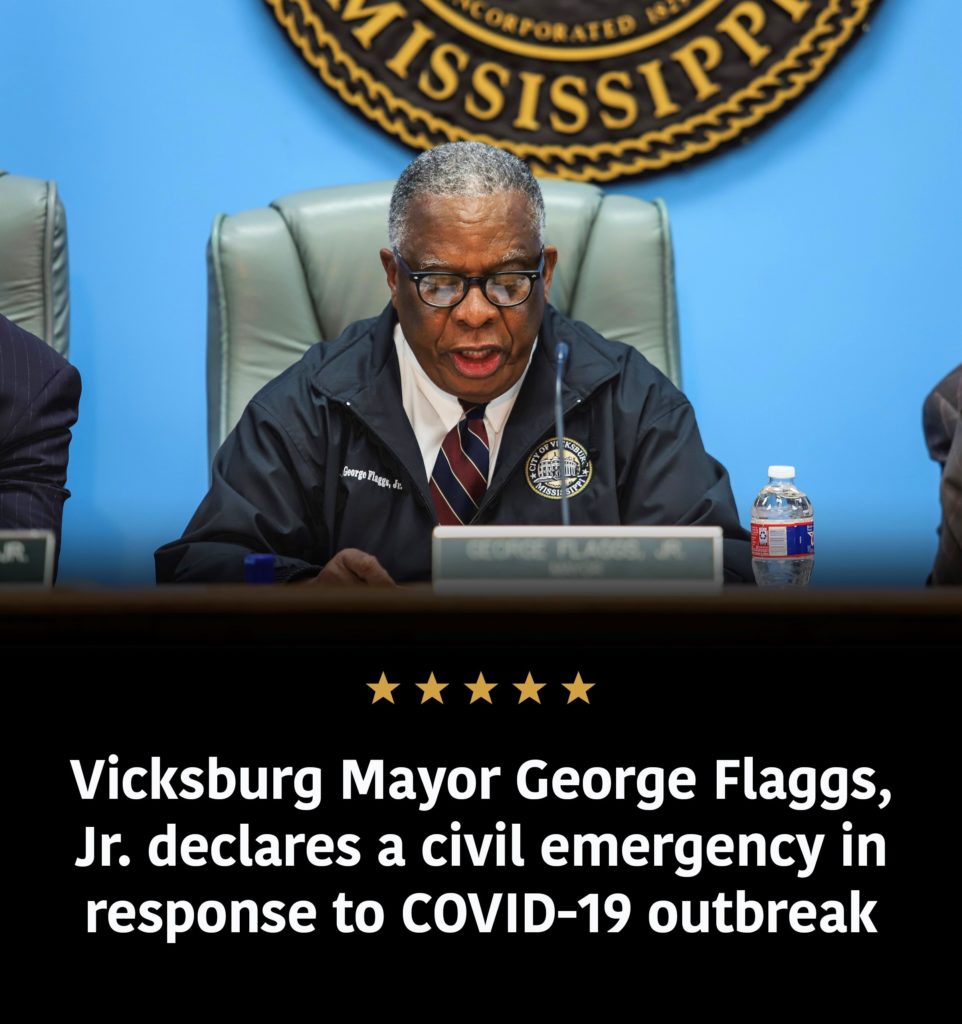 March 18 – 4:15PM – Emily Tillman
Moments ago, the City of Vicksburg Board of Mayor and Aldermen adopted Mayor Flaggs' civil emergency declaration recommendation during a special-called board meeting on Wednesday. The requirements proposed by Mayor Flaggs in the civil emergency declaration are designed to supplement the federal and state guidelines to prevent the spread of the coronavirus (COVID-19). "This civil emergency declaration will limit the hours worked by non-essential city employees and allow us to use money from our $3 million reserve fund to respond to the needs of our community," said Vicksburg Mayor George Flaggs, Jr. "Although we haven't had any confirmed cases here in Vicksburg or Warren County up to this point, we're continuing to be proactive and limiting the potential spread of this virus in every way possible."
It is the policy of The City of Vicksburg to follow recommendations by Health Officials in the State of Mississippi. As such, the City's Policy and Procedure for the safety of our citizens in the recent Coronavirus outbreak shall mirror the State's guidelines to prevent the spread of the Coronavirus and include specific preventative and operation measures that meet the needs of the City:
-Beginning Monday March 23 and continuing through Tuesday March 31-
Division Heads have designated the essential and non essential employees for their respective departments.
A 500,000 dollar personnel budget will be deducted from the $3 million reserve fund, if needed.
The Department of Finance and Administration is to create a pay plan and credit all hours during the above stated emergency work period in accordance with the following:
All employees who have been designated essential are expected to report to work unless any COVID-19 symptoms or confirmed cases affect them or their household.
All employees designated non essential may rotate work every 2 days if required by their supervisor.
Essential hourly employees will be paid time and a half for hours worked during this period.
Non-Essential hourly employees who do not work will be paid regular time during this period. If non-essential employees work during this time period, they will be paid time and a half. There will be no exchange of hours worked by employees unless approved by Division Head.
Salaried employees will be paid their regular salaries.