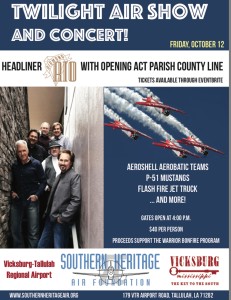 October 12, The Twilight Air Show and Concert with Headliner Diamon Rio! Gates open at 4pm
Get your tickets here: https://www.eventbrite.com/e/2018-twilight-air-show-concert-tickets-45033473331?aff=V105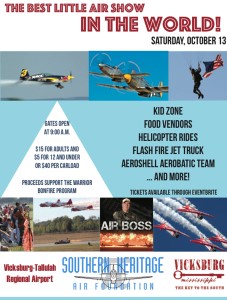 October 13, 9:00am – 3:00pm..The Best Little Air Show IN THE WORLD! 
PARKING: Limited parking is available at Vicksburg Tallulah Regional Airport.
Take a shuttle to and from the event by parking in the designated area behind the Off Track Betting building off of the Mound Exit (Exit 182). The Shuttle will begin running at 8:30 am and run on the hour and half hour. The last shuttle back to parking will leave the airport at 3:30 pm.
Get your tickets here: https://www.eventbrite.com/e/2018-best-little-air-show-in-the-world-tickets-46135229714?aff=V105